Ho cominciato a disegnare le borse nel 2000 con la collaborazione di mio fratello Pietro e l'intervento di amici grafici e artisti.
Nella fase di progettazione c'é un lavoro collettivo, un sovrapporsi di idee, che arricchiscono l'oggetto e lo modificano rispetto al piano iniziale.
L'interno delle borse è altrettanto importante: la serigrafia del tessuto è una mia peculiarità. I nomi che assegno sono delle citazioni che fanno riferimento al mondo del lavoro dalla cui osservazione traggo spunti.
La produzione è italiana. L'artista e artigiana, Ylenia Deriu (yleniaderiu.com), mi segue nella fase di produzione.
Fonte di ispirazione sono per me il gruppo Veneto "Enne" che gravitava attorno a Padova negli anni '60, ed era ossessionato dalla geometria, dalla ripetizione matematica, da automatismi grafici che rispecchiano le contemporanee esperienze europee della "Op Art"; le incisioni dei Remondini(Palazzo Sturm.it), editori e stampatori bassanesi del 1700, definite nei loro cataloghi come stampe "ordinarie", destinate a carte da parati e a carte per rivestimento; le incisioni di Giandomenico Tiepolo, ironico incisore del 1700 veneto, figlio del più famoso Gianbattista, per il tema del bosco.
L'incursione nei campi più disparati continua a essere per me una necessità:  dal folclore ladino, web design, tappezzerie bulgare, grafiche dei truck indiani, al lettering più commerciale.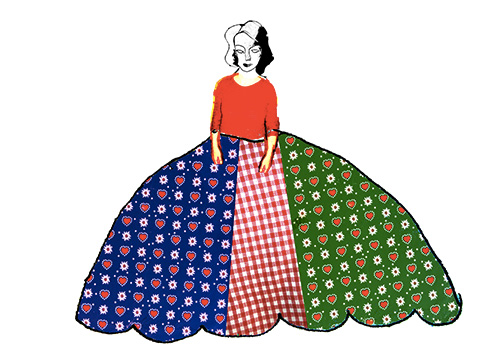 I designed my first  bags in 2000 in collaboration with my brother Pietro and with some help from graphic artist and artist friends. In the planning phase there is collective work, an overlapping of ideas that enrich the object and inevitably alter it from the original plan. The interior of my bags is just as important as the exterior: their silkscreen printed linings are one of my hallmarks. The names I choose come from quotes that refer to the world of work which I observe and provide the starting point for my ideas. Production is entirely Italian. The artist and artisan, Ylenia Deriu,  (yleniaderiu.com), follows me in the production phase.
One of my sources of inspiration  is "Enne", a group from the Veneto Region which worked in and around Padua in the '60s, and was obsessed with geometry, mathematical repetition, and automatic writing reflecting the contemporary European experience of "Op Art.";  another is the engravings of the Remondini family, (Palazzo Sturm.it), who were 18th-century publishers and printers  from Bassano, described in their catalogues as "ordinary" prints, made to be used as wallpaper or for other everyday use. Yet another is the woodland scenes in the engravings of Giandomenico Tiepolo, an ironic 18th-century Venetian engraver,  the son of the more famous Giambattista.
Adventures in the widest variety of places continue to be a necessity for me: from Ladino folklore to web design, Bulgarian tapestries, graphics on Indian trucks, and even more commercial styles of lettering.